First Saturday of the month means....PUGGY MEETUP!!!! The one we had on Saturday was SO much fun with perfect weather (nice, sunny, cool and breezy!) and a TON of Puggies showed up. Mom and Dad tried to get pics of everything, but there was SO much to see....here is a pretty good mix of pix!
Just for your reference, I (Salinger) am in the blue wife beater shirt with the bulldog on the back (Mom got it in the BABY department at Meijer for $2! It's a 12 months baby size!)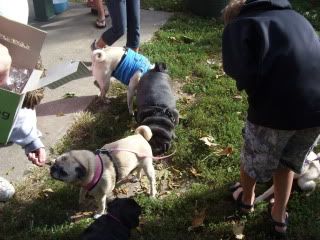 Nothing beats a good ol' "sniff train" to kick off the festivities!!!
O'Mally
was at the head of the line and that's Rocco between us!
OH THANK PUG that mom brought treats!!!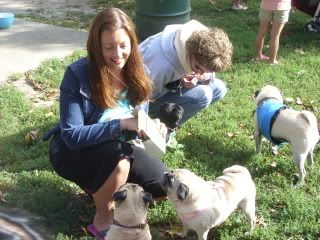 Poor
Pugsley
,
Lilo
and I were wasting away because it had been almost a whole TWO HOURS since we'd eaten anything!!!! Can you imagine???
Here are more snackables for
Pugsley
, Sugarpaw and
Hank
Just look at
Lilo
there to the right...the poor dear was so famished, she didn't even have the energy to get in line with the others!
Mom laughed at this exchange....
This is
Molly O'Mally
and
Maggie
eyeing up Carson the Elderly Puggy! Mom called them a couple of "Gold diggin' hussies"!!!
THEN the cheating started....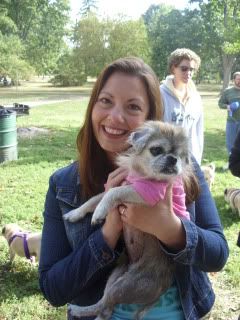 Here's Mom with "Hot Mess Rosie"! Poor little sweetie is the
Pug Posse's
newest foster pug/mix. Mom called her a "Pugifino" because she's a mix of a Pug and "Hell if I know!" She was so sweet and just loved to be held!
Of course she had to make a big fuss over Pippin (her "unofficial" favorite member of the
Pug Posse
)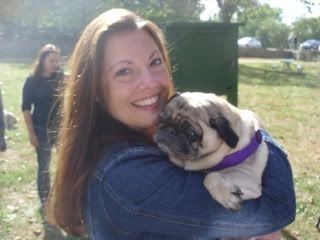 Criminy! That woman is SHAMELESS! I was standing RIGHT THERE!
DADDY even cheated on me!!!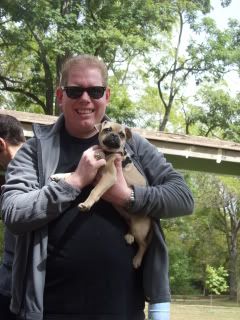 Here he is holding adorable Baby Stewie! (You may know Stewie...he was one of sweet Sassy's pups that were all born LIVE on the KPR webcam!
CLICK HERE
to see some archived pics)
Here's mom in a big ol PILE of cheating (and handing out foodables)
Just look at me behind her hanging my head in disgust while she's holding up Stewie like he's baby Simba!!!!
Mom and Stewie's Mommy, Debbie tried to get me to check out Baby Stewie to see how I would react to a new baby Pug...
I figured out that if I don't look at him, he's not really there.
***Mom's Note*** Be sure to check out
Yoda and Brutus' blog
for a VERY hilarious pic of the whole Salinger/Baby Stewie meeting that wasn't!
Cheating and jackassery aside, we had a great time seeing some of our most favorite Pugs and their peeps....
Here I am with Aunt Sarah (
Hank and O'Mally's mom
).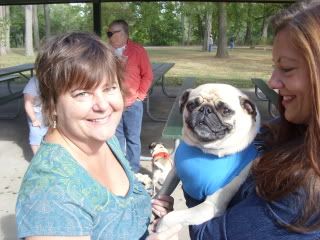 Check it out...we're holding paws!!! Awwww!
Here's Vikki with some of the
Pug Posse
!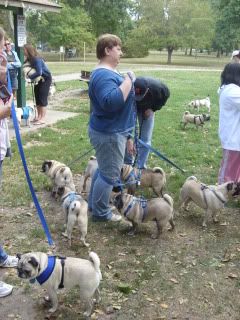 She was a little bit "tied up"! HAHAHAA
Heather with Low Rider Lola
(I was off behind a tree with Pugsley somewhere!)
Here is Mark with Claude Pug
Mom thinks we need to start a petition to get Claude to start a blog! He's VERRRY funny!
This is a new Puggy friend named Braxton!
This was her FIRST TIME at the Indy meetup! Her parents were from South Carolina!
This human puppy named Lily came over with her parents to find out WHY all these Puggies were running around!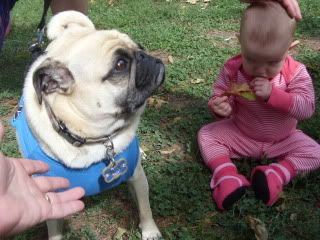 They thought it was pretty cool that us Indy Puggies have our very own social calendars!!!
Last but not least...here's a great group shot of those of us that stuck around for a bit. There were a TON more there...but we didn't think to get a group shot until the crowd started to thin out! Sorry if we missed anyone!!! Be sure to click to biggify so you can figure out who everyone is!
YAAAAAAAWN! Ok Mommy....I'm TIRED and starving!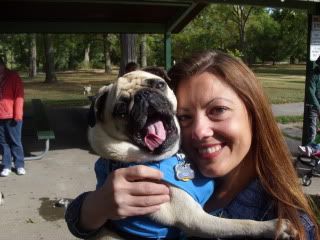 Can we go to McDonalds now????
Ahhhhhhhhh! Nothing like an Al Fresco Cheesy McBurger!!!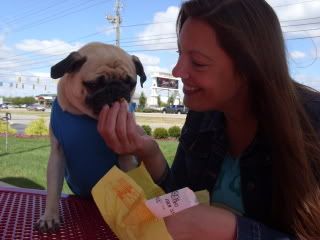 OMNOMNOMNOMNOMNOM!!!!
Hi Daddy...you aren't going to eat all of those fries are you?
NOM!
Thanks for coming along to our September Meetup! Be sure to stay tuned...October is shaping up to be a VERRRRY interesting meetup!!!!