Hey everyone! Since you all met Baby Stewie in my last post I thought I'd also tell you about Stewie's brother and littermate JEFF SATURDAY in his new furever home with his big siblings! Collectively, they form the PUG CORRAL and are all named after Indianapolis Colts players!
CLICK HERE
to visit their bloggie and show some love!
THIS is center...Jeff Saturday!
You can
CLICK HERE
to see some archived pics of the PUPPY Jeff Saturday and his sweet mama Sassy!
Next in our starting lineup is Quarterback...Peyton Annie Manning!
The 4 legged Peyton is a BUGG (Pug + Boston terrier)
Next up is tight end...Dallas Clark!
"Dally" (as he's affectionately called) is a PUG-TZU (Pug + Shih Tzu)
Last but not least...our favorite wide receiver...Reggie Wayne!
Mom stopped over at the Corral to pass along some tummy rubs and got to meet Baby Jeff Saturday in pugson. She left me at home because she figured I would act all turdley and stuck up like I did around Baby Stewie. Here she is getting PUPPY KISSES (a.k.a. CHEATING!) just before kickoff!
I wish you could hear mom...all yammery about "puppy breath"! Eeeesh!
Right off the bat...Jeff Saturday TACKLED his big sister, Peyton!
It sure looks like unnecessary roughness to us!!
Let's take a look at the instant replay!
Looks like a FIRST DOWN
(Get it? DOWN? hahahahaa)
Ok....TIME OUT to take a break and rest up for the rest of the game!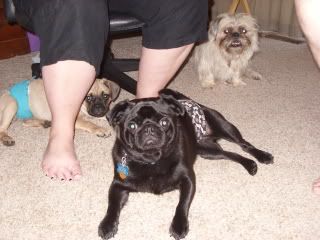 Here is a final pic of ME (Salinger) with one of the Pug Corral's coaches and Mom in Charge...JULIE!
She came to visit me last week and brought me TREATS!!! Nom nom nom...thank you Auntie Julie!!!!
Thanks for spending some time with the Pug Corral with us!!!! Happy Hump Day and as
the Corral
always says...TOUCHDOWNS AND TUMMY RUBS TO ALL!