That's right...
Pugsley
and I are making it OFFICIAL!
NO GIFTS PLEASE!!! (or if you feel that you MUST do something...please consider a
donation to Kentuckiana Pug Rescue
in lieu of a toaster/blender that we can't operate anyway with us lacking opposable thumbs!)
NOW...some of you may have heard the buzz about the big invasion of Indy coming up here the first weekend of October! It seems that many out of town bloggers are going to be traveling from all OVER the place to come to one of our (in)famous Indy Pug Meetups!
Pugsley and I (along with our hoomans) have decided that our official "union" will be Friday, October 1 at the hotel where we understand most people are staying!
WE'RE SO EXCITED!!!!!!!!!! Let's see...old, new, borrowed, blue...check check check and check!
Saturday afternoon is our official Meetup and then Vikki and Dennis (of The
Pug Posse
) have graciously offered to host an "afterparty" at their house! There will be lots of puggies, laughing and nommables!
(Pee mail us privately at laura0227(AT)yahoo.com for details if you still need them). We're keeping details off of the invitation to protect our privacy against the papparazzi (read: stalker weirdos!) out there that might show up and make a scene!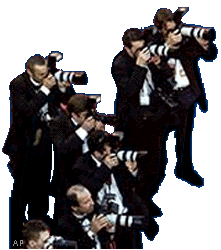 We are so excited to see all of our puggy friends and their hoomans and promise that you will have a FABULOUS weekend here in Indy! You never know what kind of friendships/connections will be made....just look at Pugsley and I the first time we met when we were both little pups (October 07)
Hope to see a BUNCH of you all there!