Hi everyone! We're skipping Wordless Wednesday this week because we have some exciting news that involves LOTS of words!!! Holden won his class Spelling Bee and participated in the SCHOOL Spelling Bee (grades 3-6) yesterday!
Mom went to school and sat in the Parent Peanut Gallery to watch.
Holden is front and center...blue striped rugby shirt and khaki pants! WHOOHOO!
This is kind of dark...but here he is taking his place at the mic!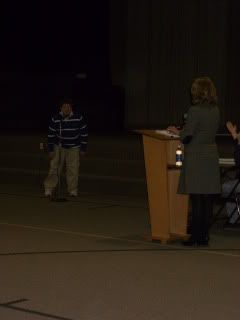 Piano...P-I-A-N-O...piano.
Holden made it down to the FINAL FOUR and then had to sit down after missing "solemn"
He's showing how many kids went out ahead of him (ten).
In fairness...mom said she probably would have had to run the spell checker over "solemn" too! GOOD JOB HOLDEN!!!!
Since they have this idiotic rule about NO PUGS at school...I had my own spelling bee here at home in front of the fridge.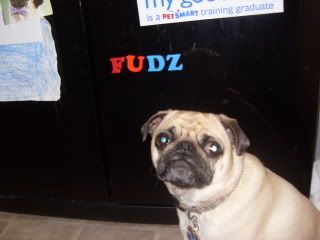 Foods....F-U-D-Z....FOODS!!!!
Ok, I've spelled it out for you....now MAKE MY DINNER MOM!
Happy Hump Day!!!!