Our pal
Brutus the Frenchie's
mom is a dentist and clued us all in that this is National Pet Dental Hygiene Month!
SO...we're following the lead from our minty fresh pals,
Bajas
,
Brutus
, and
Benny & Lily
and showing you how I love having my teefs brushed!
FIRST...Mom loads up my brush with special BEEF teefpaste for doggies!
Then we brush brush brush!
Don't forget the back ones!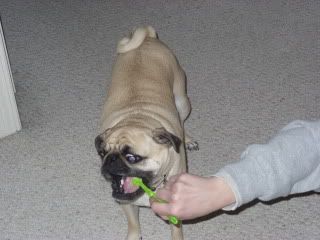 Hank and O'Mally's mom (Aunt Sarah) will be SO proud of me!!! (Because she's a Dental Hygienist and has to use that iron hook to make people's gums bleed all day).
Here's a video of me in full Dental hygienic action....
Since we're celebrating Pet Dental Hygiene month...mom thought this was the perfect time to post one of her FAVORITE old SNL bits (she has like a bazillion, but this one is REALLY funny!)
TASTES GREAT ON A CRACKER!!!! Mmmm....I'll have to try that with my BEEF teefpaste!