Hi everyone!
Today, I, Salinger The Pug am playing RESTAURANT CRITIC! Mom and Holden took me to downtown Indy (where daddy works) to meet him for lunch (I guess to make up for giving me the SHAFT instead of going to the fair!) We went to
Aesop's Tables
because they are DOG FRIENDLY and let me sit on the patio for lunch!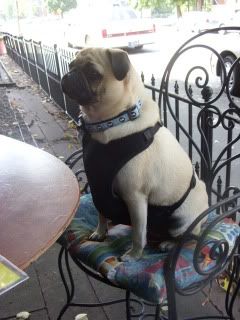 Mom and Dad had eaten here before (Mom LOOOOVES Greek food!) but this was MY first time!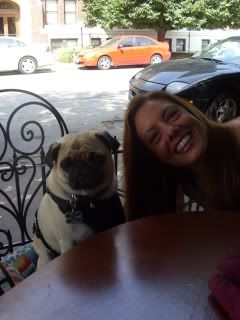 "OPAAAAA!"
We were sitting there enjoying the nice breeze on the patio and just soaking up the nice atmosphere of Mass Ave. when one of the nice owners of
Aesop's Tables
(Kathy) came over to visit me!
I'm telling her that I'd really love a big juicy gyro...but I must have pronounced it wrong because the waitperson brought me water instead. Oh well.
Mom ordered an appetizer plate for her lunch, it had Dolmades (stuffed grape leaves) which are one of her most FAAAAAVORITE things! They look like this......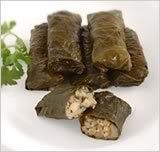 She shared her Dolmades with me!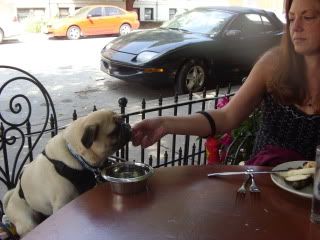 MMMM!!! Just the right blend of lemon, rice, dill and we THINK we taste pine nuts in there too (they're traditionally in there...so we just assumed).
Holden had a "Pita The Great" (HAHAHA! GET IT???) which was a veggie pita with tzatziki sauce.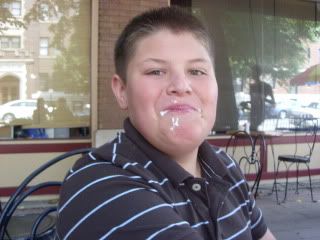 Bonus style points for Holden for getting more tzatziki on his face than in his tummy!!!
Dad had a chicken saute (chicken gyro) which he said was DELISH!!! I tried the chicken and it was definitely yummy! Mom tried to get a picture, but the batteries in the camera died! :-(
After I had bites from everyone's plate...I hopped down off my chair to admire the pretty flowers in the pots around the patio.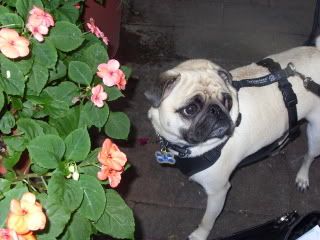 SO...overall...my rating for
AESOP'S TABLES
on Mass. Ave. in Indianapolis is a TWO ENTHUSIASTIC PAWS UP!!!!

Food is excellent, service was great, atmosphere is fabulous, menu is diverse (they have a lot of veggie choices and a few things for the less adventurous if you're not into Mediterranean fare) and best of all...DOG FRIENDLY!!!
We'll be back for sure! We highly encourage all of our local friends to get their people to take them there so they can be seen on the patio!!!
Happy Hump Day!